Skip to Content
Minimally Invasive Robotics
Performing Procedures Using Minimally Invasive Robotics
The doctors and staff at Columbus Surgical Associates want our patients to receive the highest level of surgical care at our Central Ohio office. We pair our extensive training and expertise in medicine with caring and compassionate service during every appointment and procedure. Another way we ensure the best surgical care possible is by investing in the medical field's most up-to-date technology for general procedures. Our surgeons emphasize performing general surgery using minimally invasive techniques whenever we can, and the advancement of tools and equipment coincides with our commitment to exceptional care. One technological asset we use in surgery is minimally invasive robotics. Dr. Jason D. Shoemaker is our Robotic General Surgeon. He teaches and trains surgeons in robotic surgery and lectures on robotic surgical procedures for Intuitive Surgical Systems. This minimally invasive treatment option effectively is used for many procedures, including incisional hernia repair, C-section hernia repair, colon surgery for cancer, anti-reflux surgery, and gallbladder surgery. Using robotic surgical solutions is a valuable asset in our effort to look after a patient's comfort, welfare, and treatment success.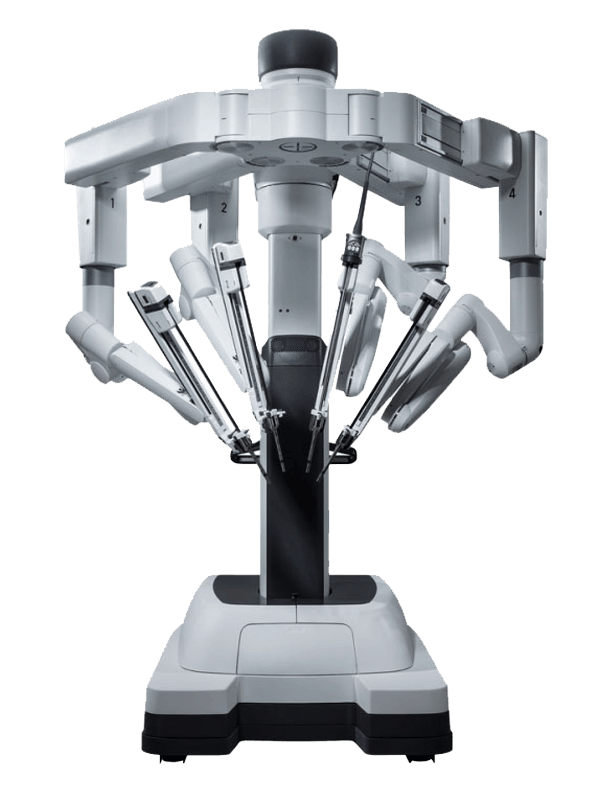 How Does Robotic Surgery Work?
Minimally invasive robotic-assisted surgery works by using a console with two master controllers to maneuver four robotic arms to perform the procedure. The surgeon views the procedure with a high-definition 3-D image on the console, which allows them to see every step of the surgery better than ever before. The computer software replaces the surgeon's actual hand movements, which ensure each movement is extremely precise. Robotic surgery can be used to perform a wide array of surgeries, including many of our general procedures. We may use this technology to carry out surgical treatment for tumors, lesions, and other conditions affecting our patients. Our doctors and staff at Columbus Surgical Associates will discuss your treatment options and whether minimally invasive robotics is an option for you. The benefits of this type of surgery make it an ideal way to complete procedures because of how much it minimizes various factors related to surgery. Some of the other benefits include the following:
Less pain from the procedure
Smaller incisions
Quicker recovery time
Shorter hospital stay
Reduced blood loss
Lower risk of infection
Less scarring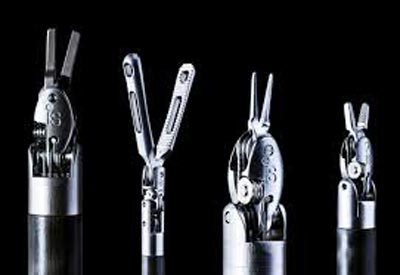 Using Advanced Technology for Better Treatment
Columbus Surgical Associates is proud to offer minimally invasive robotics as a procedural option for general surgery. While it may not be the best choice for some patients or procedures, our staff will work with you to determine whether robotic-assisted surgery is right for your treatment.
What is a da Vinci surgical system?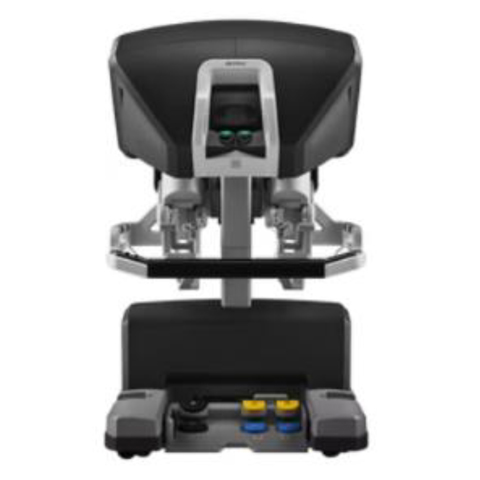 Surgeon Console
Your surgeon sits at the console, controlling the instruments while viewing your anatomy in high-definition 3D.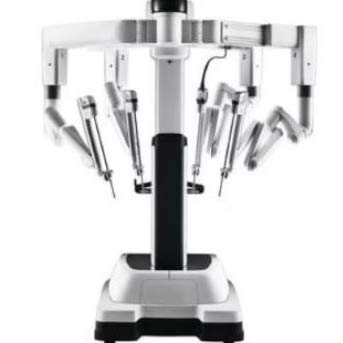 Patient Cart
Positioned alongside the bed, the patient cart holds the camera and instruments that the surgeon controls from the console.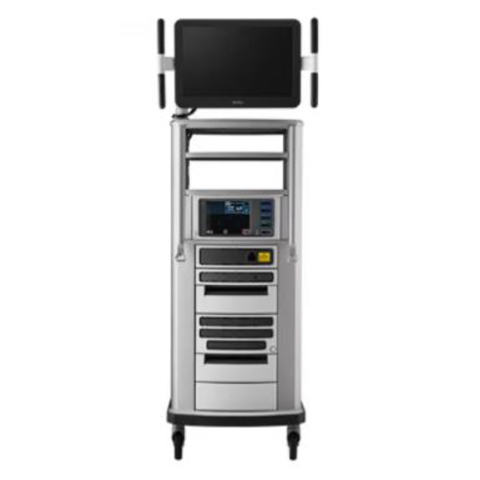 Vision Cart
The vision cart makes communication between components possible and supports the 3D high-definition vision system.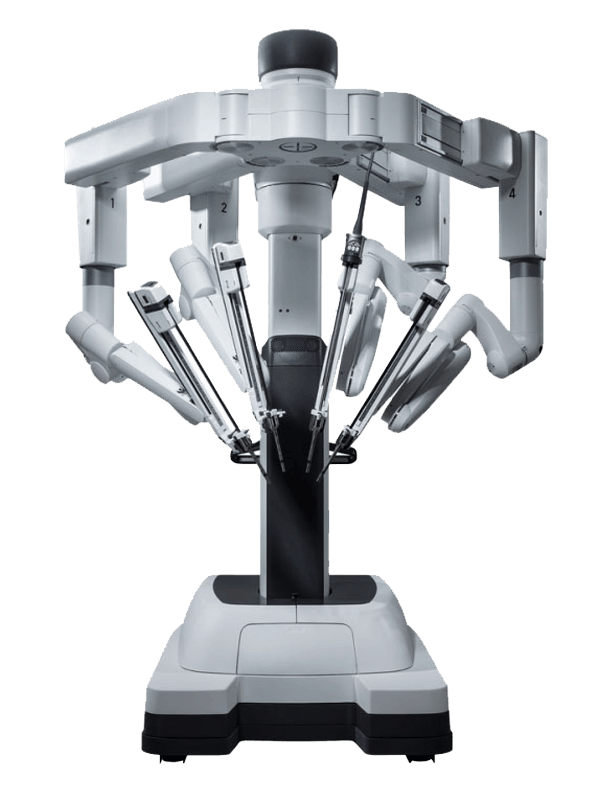 Types of surgery
In the past, surgeons made large incisions in skin and muscle so that
they could directly see and work on the area of concern. This is called
open surgery. Today doctors still perform open surgery, but can also
perform many procedures in the abdomen and on the digestive tract,
often called General Surgery, using minimally invasive laparoscopic or
robotic-assisted surgery, possibly with da Vinci technology.
Both minimally invasive approaches only require one or a few small
incisions that doctors use to insert surgical equipment and a camera
for viewing. In laparoscopic surgery, doctors use special long-handled
tools to perform surgery while viewing magnified images from the
laparoscope (camera) on a video screen.
Some of the other benefits include the following:
Less pain from the procedure
Smaller incisions
Quicker recovery time
Shorter hospital stay
Reduced blood loss
Lower risk of infection
Less scarring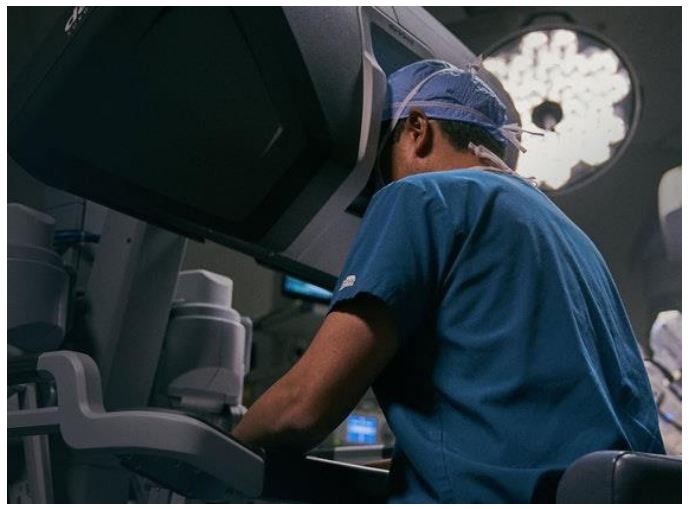 Surgeon console
The surgeon console is where your surgeon sits during the procedure, has a crystal-clear 3DHD view of your anatomy, and controls the instruments. The tiny instruments are "wristed" and move like a human hand, but with a far greater range of motion.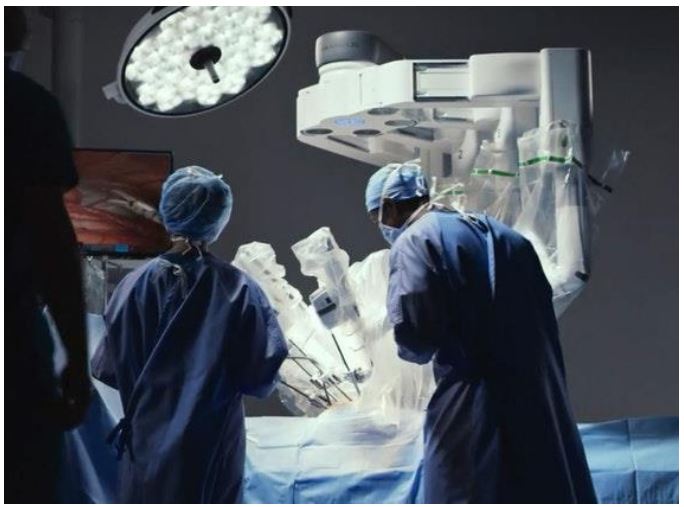 Patient cart
The patient-side cart is positioned near the patient on the operating table. It is where the instruments used during the operation move in real time in response to your surgeon's hand movements at the surgeon console.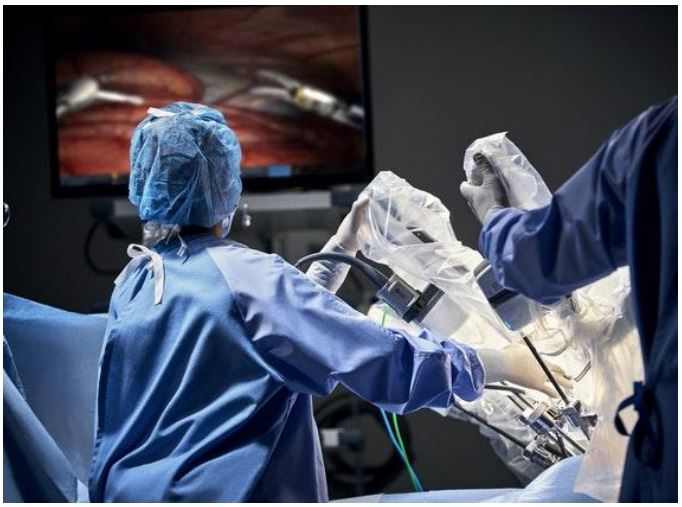 Vision cart
The vision cart makes communication between the components of the system possible and provides a screen for the care team to view the operation.
Advanced Da Vinci Technology for General Surgeons
Surgeon-controlled
3DHD  vision, scope flip, port hopping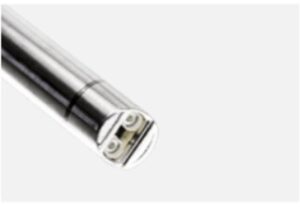 Highly magnified 3DHD  vision and true depth perception that allows surgeons to see tissue planes clearly, identify structures and stay oriented in anatomy.
Firefly fluorescence imaging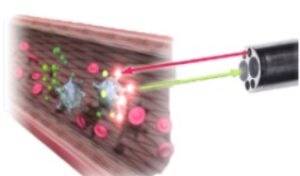 Assessment of tissue perfusion and location of vasculature
Value of Da Vinci Systems in Cholecystectomy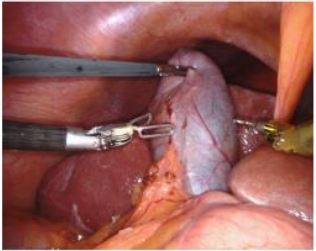 Triangle of Calot dissection
Triangulated instrumentation and stable camera provide:
•Consistent view of surgical field
•Facilitate skeletonization of the cystic artery and duct
•Ds section of Calots triangle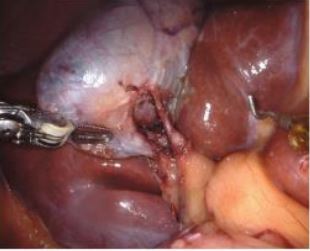 Critical view of safety* identification
High-definition 3D vision with up to 10X magnification:
•Provides dear visualization of cystic artery and duct
•Enables surgeon's ability to provide precise, lateral counter traction on the infundibulum
Biliary duct visualization
Firefly fluorescence imaging can be used to identify:
•Common duct.
•Common hepatic duct
•Cystic duct
Offering confidence in identification of normal and abnormal biliary anatomy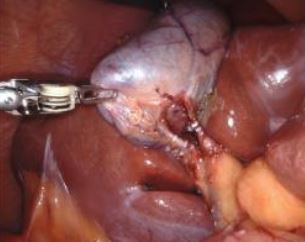 Cystic artery and duct ligation and division
Tremor-free clip ampler facilitates:
Ligation subsequent division of the cystic artery and duct
Contact Our Office to Schedule an Appointment